(Formerly known as Young Enterprise)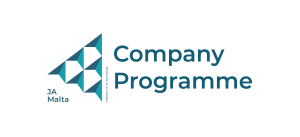 The JA Malta Company Programme offers post-secondary students the opportunity to take a business idea, formulate it and make it a reality, over the course of 1 academic year; all within the framework of an interorganisational network of youths.
The programme connects youth to a network of Organisational and global business professionals.
JA Malta Company programme is based on our principle of learning-by-doing, and provides a structure that takes the participants through all the phases of the creation of a mini-company. The learning-by-doing experience is delivered through hands-on workshops, guidance by mentors, and the judging panel's feedback at the respective stages.
The learning outcomes from the JA Malta Company Programme include the ability of the student to:
Engage in creative thinking, ideation and problem-solving activities
The ability to prepare and give a presentation to an audience
Build confidence and a can-do attitude
The ability to work within a team and collaborate
Negotiate and make decisions
Set goals, manage time, and take risks
Create and execute a Business Plan
Develop Financial Literacy
Youths will understand the value of teamwork, and the many skills needed to run a business.
Planning and time management skills will be developed, and the importance of setting clear, achievable goals will be made clear.
The programme will impart essential financial literacy skills, through JA's signature experiential learning technique.
This engaging hands-on learning experience will be both fun and impactful!