Building A Financially Capable Generation - BAFCG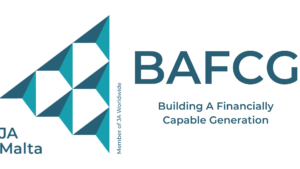 Discussions and online game-led activities are used to teach key financial capability concepts to youths. Training sessions lasting 4 hours (2 sessions of 2 hrs) will be delivered by volunteers, bringing their experience from industry into the classroom.
A particular focus will be placed on an online educational game/app, called FinQuest, which will be the main means of delivery for this programme.
Several different "quests" will teach children foundational aspects of money management, such as managing cash flow, planning for the future, and using financial services.
Learning can be assessed by the "Quest Leader", a teacher in each school, who will be able to see everyone's scores and track their progress.
The programme will culminate in a National Innovation Challenge on 27th March 2023, where the winning teams from each school will face off in a national competition. The winner will represent Malta in the GLOBAL FinCap Challenge 2023, which will be a 3-hour online event (date and time TBC.)
Learning outcomes for this programme:
Managing Cash Flow

Earning money
Budgeting money
Shopping smart
Planning for the Future

Saving money
Managing risk
Debt management
Using Financial Services

Bank accounts
Debt management
Register your school's participation by 8th February 2023 ⤵️
Children will be able to see the bigger picture, and will understand the need to set goals in order to achieve them.
A brief introduction to various essential financial concepts, which will encourage sound financial management.
The programme will explore the connection between needs, wants, and values, to help in keeping finances under control.
This volunteer-led, engaging learning experience will be both fun and impactful!
Students and guardians, get in touch to learn more about this programme.
JA partners with schools to deliver our programmes to their students and assist them creating more opportunities and learning experiences.
We deliver our learning experiences through volunteers from all sectors of society, who bring real-world business know-how to students.
Building A Financially Capable Generation (BAFCG) is an ongoing global project, supported by HSBC, aimed at imparting practical information on Financial Capability to youths.