Last week, EY held the Generate conference at the Inter Continental Arena, attended by 900 students aged 14-17. A number of interactive workshops were held, namely 21st Century Audit, Sustainability, Cybersecurity, Mobility, AI + Technology, Purpose and Tax + Legal.
These workshops tackled ongoing changes and challenges in the world of work, and wider society. The industry experts delivering the talks were mostly young people themselves, so they were able to connect with their audience, and inspire them to think about themselves and the world around them.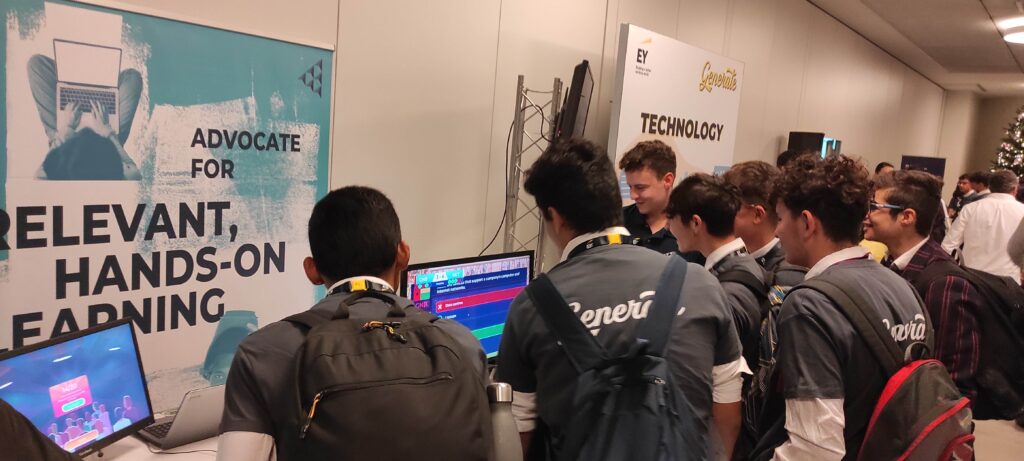 At JA Malta, we also believe in reaching out to young people. Our aim is to inspire and prepare youths to succeed in a global economy. That is why we also had a presence at this event, organized by one of our esteemed partners EY, to spread our message to as many young people as possible. We believe that young people need guidance and opportunities in order to realise their potential, hence our focus on mentoring and volunteering.
The 21st Century Audit Workshop made it very clear that the services that JA offers are needed now more than ever. In the talk, it was revealed that, according to the WEF, by 2050, 50% of jobs will be changed by automation. JA Malta places a heavy emphasis on up-skilling, and work readiness in particular – our youths need to be prepared for the future, which is inevitably digital. If we are to prosper through the green and digital transitions, young people need to be very familiar with the Sustainable Development Goals (SDGs), as well as all things IT-related. To think that the environment will not be a major area of concern in the future, or that rapid digitalization will be halted, is simply not realistic. At JA, we seek to raise these issues to the forefront of the next generation's consciousness, so that they can tackle the future confident, adaptable, and prepared.
If you think you might be able to contribute, either through mentoring or volunteering, please do get in touch, your expertise is sorely needed. It is incumbent upon us, after all, to create the necessary conditions in which our youth can thrive.